Choose Your Package
Get everything you need to start your photo booth adventure
Guac booths are currently shipping within 6-8 weeks
Don't need a printer? Check out our Guac (no Chips) packages here
Frequently Asked Questions
When will my Guac ship?

Guac shipping times vary based on stock levels. We are actively working towards a 1 business day shipping window. Due to logistical obstacles around the world, wait times may be extended unexpectedly. Please check with a Photo Booth Strategist for the latest delivery times. Chips will begin shipping at the beginning of 2023.

Do you ship internationally?

Yes. Shipping, duties, and fees may apply on top of the order amount. Please reach out to sales@photoboothsupplyco.com if you need international shipping.

What are the international power requirements for Guac?

If you are located outside of the US please ensure that you use a 240->115v step-down transformer rated for 1kw or higher.

What iPad do I need for Guac?

Guac works with any 12.9" iPad Pro 3rd Generation (2018) and newer.

What is Chips?

Chips is the printing system designed and built specifically for Guac. Powered by the DNP DS620A professional dye-sub printer, Chips is encased in a custom designed enclosure to seamlessly match Guac. Along with the printer and enclosure, Chips includes a pole and baseplate so that way there is always a place for a printer at an event.

What printer is used for Chips?

Chips is powered by the DNP DS620A, one of the most popular photo printers in the industry.

Does Chips support wired or wireless printing?

Both! When connected to Guac, Chips can print wirelessly as fast as 35 seconds. With wired printing, Chips can print as fast as 15 seconds.

What kind of prints is Chips capable of printing?

Chips can print strip style 2x6 prints, classic 4x6 prints, perforated media, sticker media, and panoramic prints.

What camera is used with Guac?

Guac's main camera is the Canon M50 Mark II. Guac can also use the front-facing camera on the iPad Pro, just like Salsa.

Can I purchase Guac without the camera?

Guac cannot be purchased without the included camera.

Can I purchase Guac or Chips separately?

Guac and Chips are sold together and cannot be purchased separately.

What software runs on Guac/Chips?

Guac and Chips will run using the Salsa iOS app, modified and improved for a DSLR style booth.

Can I use the same Salsa iOS app with Guac?

Yep! All of Guac's features, settings, and events can be accessed from the same app you're using now with Salsa.

Can I run other software on Guac?

Guac requires the Salsa iOS app and active subscription for the full experience.

Are Marketing Materials provided/included with the purchase of Guac, like with Salsa?

Yes!

Is Guac a DSLR booth?

Guac includes the Canon M50 Mark II mirrorless camera, which is a lighter weight camera than a traditional DSLR. This makes Guac much lighter to transport and set up! The photo quality is equal (and in some cases superior) to a DSLR camera.

Can I trade in my XYZ booth toward the purchase of a Guac?

At this time, PBSCO does not accept trade ins toward a Guac purchase.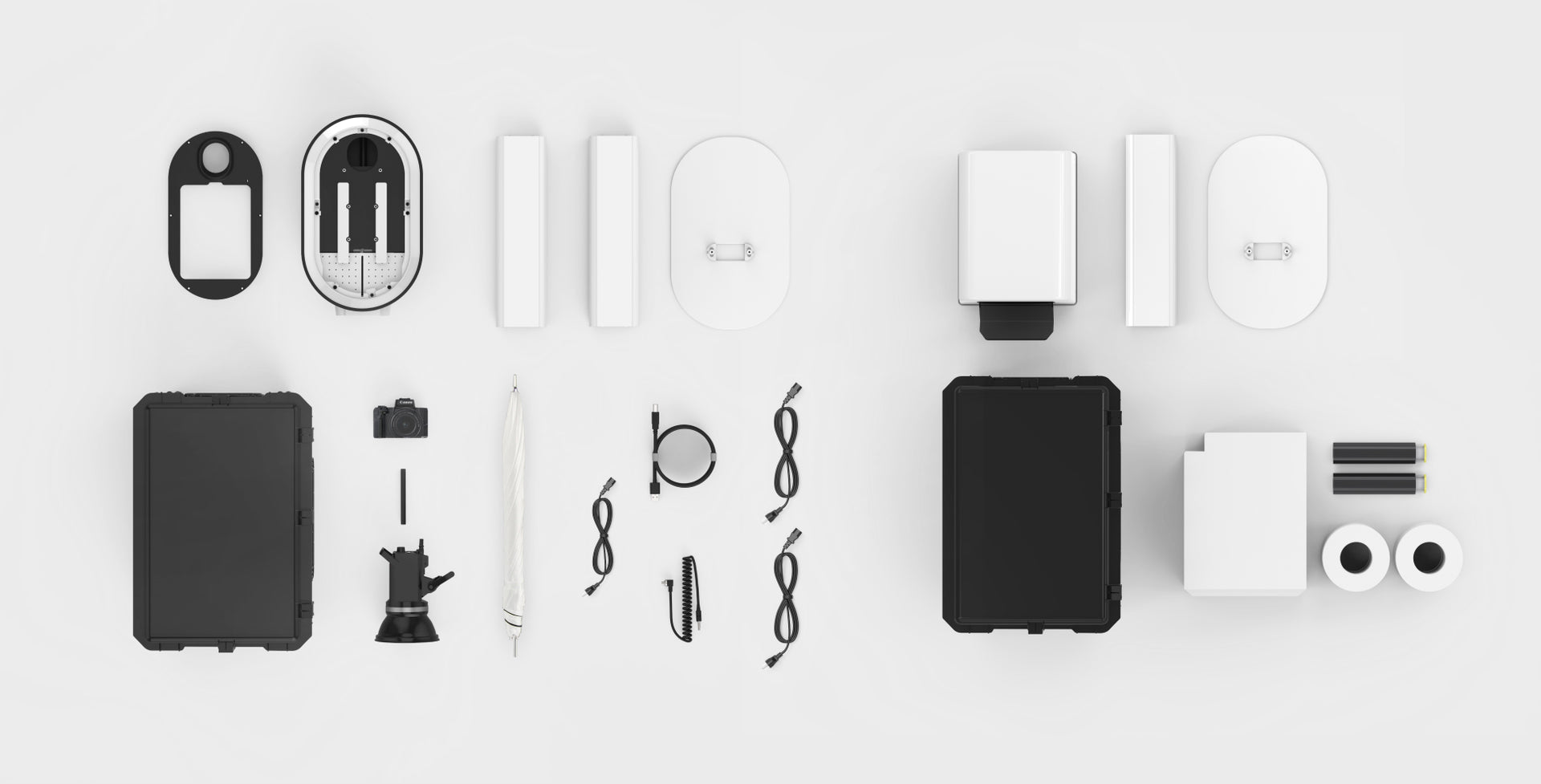 What's Included
Guac
Head Unit
Two Poles
Base Plate
Canon M50 Mark II
Godox MS300 Flash
Military Grade Carrying Case
12.9" iPad Pro Faceplate
25' AC Power Cable
Screwdriver
Misc. Hardware
Chips
DNP DS620A
One Box of 4x6 Media
Printer Enclosure
One Pole
Base Plate
Military Grade Carrying Case
Tech Specs
iPad Compatibility
2018 - 12.9" Pro (3rd Generation)
2020 - 12.9" Pro (4th Generation)
2021 - 12.9" Pro (5th Generation)
Guac
Weight: 44 lbs
Weight with Case: 68 lbs
Head Unit Size: 21.63" x 13.1" x 7.13"
Total Height: 63" (without umbrella), 88" (with umbrella)
Case Size: 16" x 19.5" x 22.5"
Camera Tilt Range: -10 to +3 degrees
Chips
Weight: 35 lbs
Weight with Case: 87 lbs
Head Unit: 21" x 16.75" x 25.5"
Total Height: 34"
Case: 16" x 19.5" x 22.5"
Power & Charging
Integrated Power Supply
Built-In 30W USB-C Port
Two 120V AC Power Outlets
Two USB-A Ports
Operating Requirements
Voltage: 110-120V
Frequency: 60Hz
Operating Temperature: 55º to 90º F
Relative Humidity: 0% to 60% noncondensing
We are here to help you be one of our successful owners
James was an officiant looking for ways to earn extra revenue. In two years, he made $66,000

Maria was able to book 5 events before buying her booth and finished her first year with 60 events

Zach quit his full-time job to pursue his photo booth business after it made $40,000 in 8 months

Kelsey is now doing over 100 events per year with her five booths. What started as a side hustle grew into a 90k/year business.

In 3 years, Mark and Swapna were able to pay off their six-figure student loan debt with their photo booth business

In 3 months of business, Jeffrey had made quadruple what he was looking to make.

Isabelle invested in 4 booths, allowed her to expand beyond weddings and into the corporate world.

Jessica 3X'd her photo booth investment and is now working with some of the largest companies in their area.

John was able to pay off his booth in a few months & now has a stable source of extra income.

Savannah ran a photography studio for 10 years, but wanted more income that wouldn't require a lot more time or energy.

Nicole thanks the quality and professionalism of the booth for giving her the high end clients she was after.

Maxwell's old booths had issues and were expensive to maintain. Salsa saved him money & allowed him to raise prices.