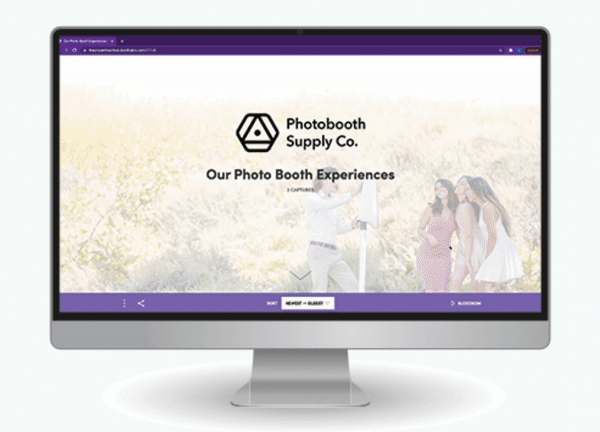 Gallery software you can use with ANY photo booth!
Did you know that the Salsa software offers the first gallery software for photo booth companies just like yours?
It is so simple to add events created within Salsa to the portfolio feature. All you need to do is to select which events you'd like to include, and Salsa will do the rest! So instead of spending your valuable time working out how to host your event galleries on your website, or spending hours downloading and uploading captures into overly complicated portfolio and gallery hosting software, just let Salsa take care of that work for you. Go and enjoy a coffee instead!
Easily accessed through our Salsa web app, it's included with every level of Salsa subscription! If you're currently spending extra dollars on gallery hosting sites, it's time to cancel them.
What's a Portfolio and why do I need one?
A portfolio is a dedicated website, or page of your website, showing off and sharing all your past work, which for photo booth companies are our event galleries. Portfolios build confidence and trust in your business, and will help secure bookings as visitors can easily view your past events and feel confident enough to reach out and book you. It is also an easy way for you to give your current, past and future clients easy access through your own website to their photo booth gallery.
How can I use Salsa Portfolio if I don't own a Salsa booth? 
Here at PBSCO we're realists and understand that photo booth owners need the flexibility of other photo booths to create a variety of experiences for their clients. 
We also know that a lot of photo booths and photo booth softwares don't offer live galleries for their events, like Salsa, which often means trying to find somewhere else to host these. 

The best thing about using the Salsa portfolio, is that you can create and host the galleries of ANY event created using ANY photo booth software or booth, whether that's the Salsa booth, a 360 photo booth, a DSLR booth, a mirror photo booth or an array booth.
It's super easy to upload galleries into your portfolio with our live gallery upload option. Simply create a new event in Salsa, and use the Upload Captures button. This will allow you to drag and drop or upload both videos and photos to the live gallery of this event. You can add 1000 captures at a time too! Just be sure to be patient and let them upload in. 
This means you have the ability to host galleries from all of your photo booth events regardless of software or the photo booth used in one convenient location for both you and your clients. Cool right?!
Can I brand the Salsa Portfolio to suit my company?
Within Salsa you can customise and brand your portfolio to suit your company, before seamlessly integrating it into your own website. 
You can add your logo and brand color, as well as a banner image that best represents your photo booth company. You can also add a call to action button. Why not use this button to redirect those visiting your portfolio to the contact or booking page on your website? This provides an extra opportunity to encourage a potential client to reach out to you and find out more about what you can offer them. 
Is it easy to integrate Salsa Portfolio into my website?
Integrating Salsa portfolio is hassle free, as it has its own dedicated URL - which you can also brand with your company name simply by adding a subdomain. You can use this URL to link your portfolio into your website. To do this one easy way is to add an "Our Events" or "Galleries" link to your website menu or navigation bar and have it click through to your Salsa portfolio. Or if you want your portfolio to appear directly on a page within your website and you're comfortable adding code or have someone creating a website for you, there's an embed code option too. 
Salsa portfolio allows you to keep all your photo booth event galleries organised and in one place. And utilising the Salsa live galleries for all of your events will also add a touch of professionalism, as everything will have a consistent look and feel regardless of what software or photo booth you choose to use. 
If you've been searching for a way of bringing all your photo booth event galleries together the Salsa portfolio could be the thing you've been looking for! 
So if you haven't signed up for a 30 day free trial of Salsa software yet to try out the portfolio feature, what are you waiting for?
---
Want to learn more tips and tricks on how to have a successful photo booth business?
Check out our other blog posts and our YouTube channel where you can find plenty more tips and tricks to help you become a successful photo booth owner.