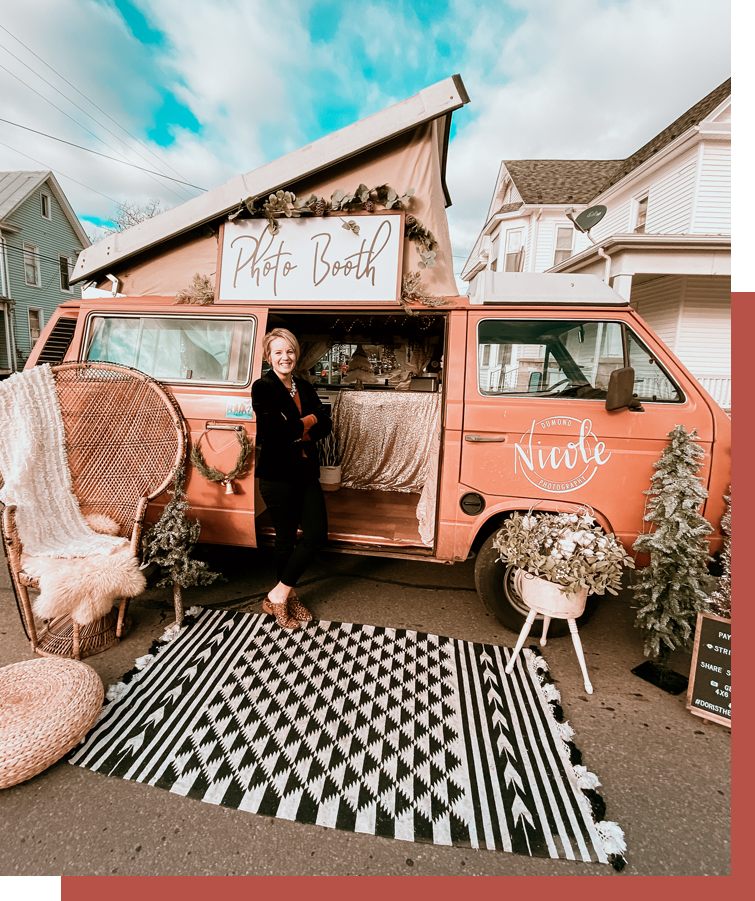 Owner Spotlight | Nicole DuMond
Back in February, we hosted a Success Story Contest where we asked our Photobooth Supply Co booth owners to submit their stories. We wanted to hear about the incredible things that our PBSCO family has been able to accomplish thanks to their photo booth business and share their stories with the world.
One of those incredible stories that stuck out to us was that of Nicole DuMond.
---
As an experienced wedding photographer, Nicole began to realize that her market was missing a huge potential - photo booths.
After many client inquiries and researching various photo booths, Nicole never seemed to find one that was elegant and provided high-quality images for her clients. She ultimately wanted something that would complement the service quality that she provided with Nicole DuMond Photography.
That was, however, until she stumbled across Photobooth Supply Co at WPI.
Nicole was immediately fascinated with the Legacy Photobooth that PBSCO offered at that time. She quickly saved up money and pulled the trigger to purchase her first booth.
Since then, Nicole hasn't looked back. Thanks to the marketing materials and help from our support team, Nicole was able to hit the ground running on day one and she's now completely hooked on our photo booths!
While thinking of creative ways to offer her photo booth to her clients, she thought about creating a photo booth van.
Cue the iPad-based Salsa Photobooth.
Thanks to the Salsa's sleek and small design, she was able to incorporate it into her newly purchased 1982 Volkswagen camper van with zero modifications. 
And did we mention? Nicole was able to purchase her van thanks to the profit from adding a photo booth. That's awesome!
I don't have an amazing six-figure photo booth success story like some might, but being able to be self-employed, having the opportunity to purchase my VW in cash from my photo booth income, and living the dream is good enough for me!
Nicole Dumond
Since then Nicole has continued to think of new and creative ways to offer her photo booth to her clients. While her photo booth business, Doris the Photo Van, is still growing, there are no signs of slowing down.
Salsa Photobooth inside of Doris the Photo Van
We here at Photobooth Supply Co are amazed at what Nicole was able to accomplish with a PBSCO Photobooth. We wish her the best of luck and we're certain that Doris the Photo Van will continue to grow in 2020.
Congratulations!
---
Make sure that you subscribe to our newsletter or follow us on Facebook or Instagram to hear when we have future contests as we'd love to hear your stories!
Has this story inspired you? Are you interested in one of our booths?
Book a demo with one of our photo booth strategists today to learn more information!
Otherwise, check out our other blog posts and our 26-Episode Video Series where you can hear from real PBSCO Photobooth owners on how they've led their businesses to success!