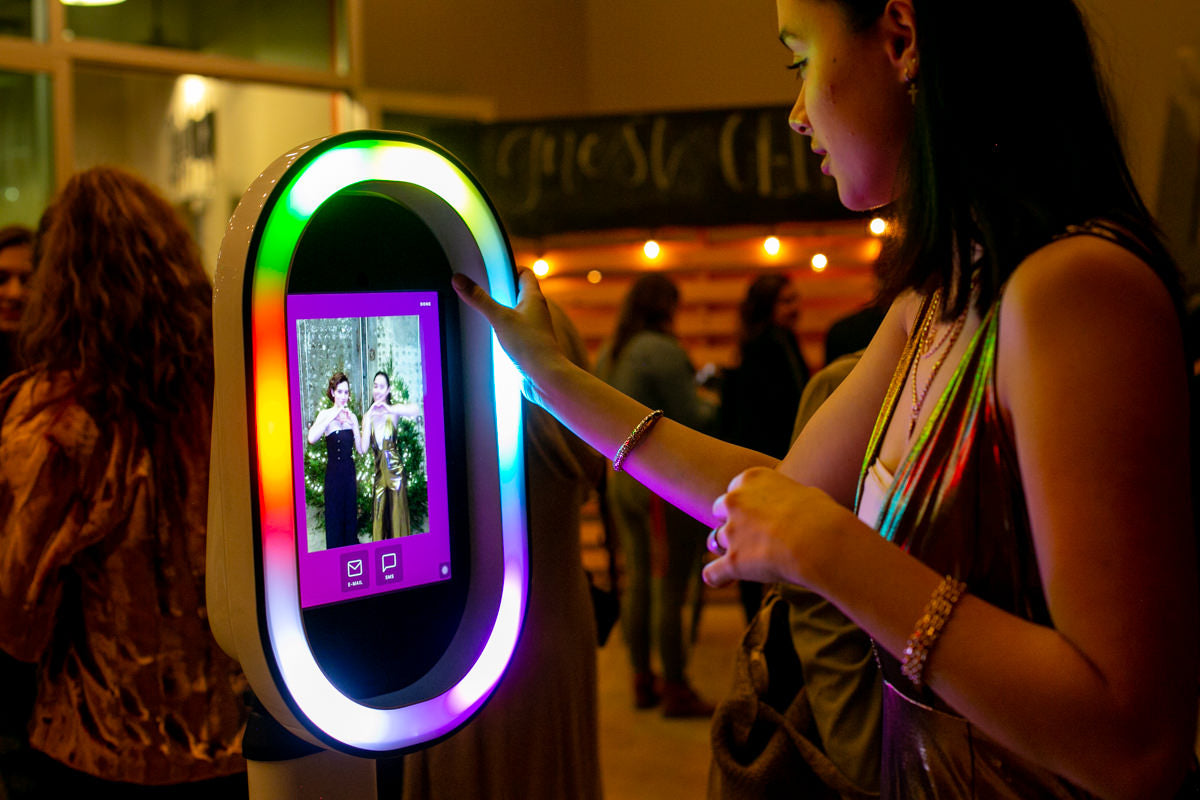 Best iPad Photo Booth Software
iPad photo booths have had a significant impact on the industry. Thanks to their ease of use, portability, and enhanced front-facing camera quality, photo booth companies are increasingly moving towards these solutions.
The market currently offers numerous different apps, and as a result, it can be difficult to settle on the right one. Are you looking for the best iPad Photo Booth Software for your next event? Take a look at the photo booth software and accompanying hardware options you can find with Photobooth Supply Co. 
Salsa Photo Booth
Create, capture, and close events with a top-rated iPad photo booth software like the Salsa app. Use this in conjunction with the Salsa photo booth hardware for the best results. Together, you can create beautiful memories and capture experiences with added value.
The Salsa Photo Booth is ideal for anyone keen on customizing their experience. The photo booth itself is like an event in a box. It is easy to travel with, even quicker to install, and it even allows for customization for different heights.
When looking for simple iPad photo booth software, the related Salsa app also has you covered with multiple different interface options. Create memorable experiences with photos, boomerangs, GIFs, and video! You may also sign up for premium experiences to take your event to the next level.
iPad Photo Booth Software Benefits with Salsa 
With the Salsa Photo Booth software, premium options also include gallery access, green screen capability, a variety of photo filters, and customizable LED lighting. Leverage these features to keep your guests coming back for more.
Trendy digital masks let you save money on physical props. The live gallery feature allows your guests to relive memories in real-time. Make the most of striking filters, such as our popular glam filter, suitable for high-end events that need a luxury booth.
Working with the Salsa iPad Photo Booth and app is simple. Create events, then make live changes to your setup from your iPad. Click a button to make changes on LED lighting and take advantage of instant sharing options via text, email, or AirDrop. Wow your guests with exciting designs that work both digitally and when you connect with an AirPrint compatible printer. The app also lets you stream to a TV or any other device with a browser.
Enjoy a hands-free experience whenever you work with the Salsa Photo Booth software. Wave to start the app and use a QR code to scan the capture. Make the most of the app's premium features to remain ahead of your competition.
Are you having trouble reaching more clients? The Salsa app can also help you grow your marketing list. Collect valuable data with customized surveys and use the email solution to boost your leads. Continue to grow your contact list with the additional SMS feature.
Monitor the live analytics page to understand your audience's preferences. You can assess the value of your event with details such as captures, shares, and more. How were photos most commonly shared? Which capture modes did attendees use the most? Put on events with the best iPad photo booth software for engagement!
Guac & Chips iPad Photo Booth Solution
Are you wondering which devices you can use with this iPad Photo Booth software? Enjoy the power of a DLSR with the simplicity of an iPad booth when you use Guac & Chips. 
Other benefits include an easy, all-in-one solution with the Salsa iPad software with its professional image capture and photo editing capabilities. Guac is compatible with any iPad Pro 3rd Generation or newer and offers various features suitable for weddings, conferences, and festivals.
Photo Booth Features with Guac & Chips
The versatile DSLR allows you to capture events with studio quality. And as the best iPad photo booth software, Salsa also provides the flexibility for users to use exciting new features only available on the Guac booth, such as slow-motion video capture. Guac & Chips comes with a studio flash unit to capture beautiful and consistent photos regardless of your lighting situation. Capture 24-megapixel photos that you could print on a billboard. Tilt the camera intuitively and capture guests of all heights. Take things a notch higher with a Bluetooth microphone that can capture video confessionals. 
Control your booths from any location with the mobile-supported Salsa iPad photo booth app. Customize your themes and correct any mistakes with a click of a button. Accent your brand for the user experience with multiple LED light sequences. Guac also lets you customize your look by displaying special offers and showing off your logo. 
Share the images instantly as you collect numerous phone numbers and emails for your marketing initiatives. You can also set up instant live galleries on custom-branded websites.
Whether you need vertical captures, overlays, animated overlays, print templates, wide group photos, slow-mo, or boomerangs, you can find it with Guac & Chips in combination with the easy-to-use Salsa app. Be sure to use the built-in design studio. Create then edit your designs with no hassle. Try out the ready-made templates ideal for diverse occasions as well! No Photoshop or graphic designer required!
Make the most of the ultra-fast prints with a printer wired into the photo booth to ensure that your guests never have to wait around. The wired printer can deliver prints in approximately 15 seconds! Guac's printer will handle anything you need, whether your clients need stickers, perforated media, or classic prints.
Which iPad Photo Booth Software Should You Use?
Ultimately, the most suitable software should deliver the experience you promise your clients. Try out the different available apps to find one that gives you no headaches, problems, or hiccups. Also, focus on keeping your costs low and finding an app with multiple styles, themes, and settings.
Working with an experienced team can help you make an informed decision based on your needs. Partner with the team at Photobooth Supply Co to find bespoke photo booth solutions.